An analysis of attitudes and spending reveals a return to traditional values, driven by consumers searching for quality, affordability, and connection.
strategy+business magazine
February 22, 2011 / Spring 2011 / Issue 62
by John Gerzema and Michael D'Antonio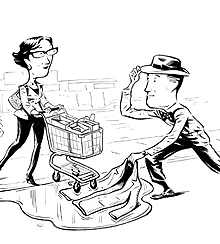 Illustration by Lars Leetaru
This change in consumer attitudes … is …, in part, a reaction to economic hard times. But it is also closely related to the civic dissatisfaction that is rocking the political establishment, and additionally has some roots in environmental awareness and changing aspirations. That is why this Spend Shift movement, as we call it, is here to stay. It will create opportunities for businesses that heed its message, and penalize those that do not. (For another perspective, see "
Values vs. Value
," by Timothy Devinney, Pat Auger, and Giana M. Eckhardt,
s+b
, Spring 2011.)
Our view of the Spend Shift is based on two years of gathering and analyzing data, and traveling around the U.S. to discover how the
recession
has affected people's lives. We started with Young & Rubicam's
BrandAsset Valuator
(BAV), which is a poll of consumer values, attitudes, and shopping behaviors that goes back nearly 20 years. …
The BAV data revealed that even before the recession took hold in mid-2008, there were dramatic shifts in what people expected in the consumer marketplace and how they defined and pursued what they considered the good life. … More recently, the BAV surveys show sharp increases in the number of consumers who want positive relationships with marketplace vendors and who focus more on corporate behavior. Between 2005 and 2009, a growing number of people rejected status-driven values such as snobbishness and exclusivity, and embraced attributes related to bringing people closer together or making the world a better place. Among the once-prized brand attributes that declined in this period were: "exclusive" (down 60 percent), "arrogant" (down 41 percent), "sensuous" (down 30 percent), and "daring" (down 20 percent). On the opposite side of the scale, the brand attributes Americans found more important as they began to sense the impending recession and then suffered through the crisis were: "kindness and empathy" (up 391 percent), "friendly" (up 148 percent), "high quality" (up 124 percent), and "socially responsible" (up 63 percent).
… Between 2005 and 2009, U.S. consumers expressed a nearly fourfold increase in their preference for companies, brands, and products that show kindness in both their operations and their encounters with customers. This desire for companies to be more empathetic toward consumers is the biggest shift in any attitude that we have ever seen during the BAV survey's two-decade history. …
1. United by Change
The Spend Shift is a far-reaching and inclusive phenomenon that can't be defined by any particular demographic. According to our data, 55 percent of all Americans are part of this movement; in addition, about one-quarter of the U.S. adult population embraces many of the Spend Shift attitudes and characteristics (we call them Fast Followers). Although the word
values
tends to polarize U.S. citizens, the Spend Shift is blind to geography, education, age, and income. …
What unites all these Spend Shifters is a common sense of optimism and newfound purpose. As the shock of economic loss wears off for many people, they are redefining what it means to be successful and happy. They are living with less and yet feeling greater satisfaction. …
2. The New Thrift
…Consumer spending will no longer be able to grow faster than personal income, as it did during the 30 years leading up to the crisis. … If you look at historical savings rates in the U.S., people have on average saved 10 percent of their income going back as far as six decades. It was only in the mid-1980s that … ordinary people [ere encouraged] to get out over their skis. In only 20 years, average American households swung from being net savers to being net borrowers. Now, however, consumers are returning to traditional values that have long defined the U.S. ideal.
…[Many] people, … are seeking ways to experience a sense of competence, self-sufficiency, and accomplishment. … If you have an idea for helping people learn new skills and connect with others, your business has a good chance of success.
3. Transparency Breeds Trust
… Companies serving these customers, who know more and expect more, will need to continuously listen, respond, and innovate. They are in for a challenge: Our data shows that confidence in all types of big organizations, including big government and big business, has declined by nearly 50 percent in the past two years. …
Wary consumers are going beyond just reading labels to get the best products and the best deals. The most tech-savvy are using online services as they stand in the supermarket aisle to get instant access to information on prices and on a company's social or environmental record. …
… Today, however, customers have equal (and sometimes superior) access to data. As a result, transparency becomes all the more crucial. Today's stakeholders … crave a true, authentic story. They will be interested in how a company thinks and how it makes decisions. …
4. Companies That Care
… The ability of a company to identify with its customers is now a prerequisite for any brand in the post-crisis age. Today, openness, humility, and understanding are critical. Generosity binds a company to its community and its stakeholders.
The rising importance of generosity reflects the fact that the post-crisis era will be defined by inclusion rather than exclusion. … Spend Shifters are buying artisanal food because they trust companies that reveal how their food is produced and handled. They patronize cooperative small businesses because such businesses use their profits to build up their local regions. Passionate customer groups will also band together to fund niche offerings that speak directly to the areas about which they feel most strongly. Because 71 percent of U.S. consumers are now aligning their spending with their values, businesses that practice in a new way will find a vibrant marketplace. Instead of selling shoes, such businesses sell empathy and respect. … Instead of serving food, companies create communities of hope. Instead of making cars, they promise fairness, openness, and shared discourse.
Consumers will be looking for signs that companies care about their impact on communities and are investing in making things better. … The vanguard companies understand that showing kindness and humanity is now a competitive advantage.
Microsoft is a telling example. … In our BAV survey, Microsoft always scores high on measures of its reputation, exceeding Apple by a wide margin. … Despite its massive size, Microsoft is still widely associated with the single personality of its founder, Bill Gates. He gives Microsoft a human face and, more important, his philanthropy gives the company a heart. …
When we talked to Akhtar Badshah, Microsoft's senior director of global community affairs, he told us that in its response to the recession, Microsoft pursued three main areas of focus: education, innovation, and jobs and economic opportunity. … The key point is that Microsoft uses both its money and its true areas of expertise to maximize the good it can do as a citizen corporation, showing how a company can be charitable by redeploying its existing assets and infrastructure as tools for social and economic development.
The Consumer Connection
… Although the growth of consumer spending appears to be slowing, we believe that people are simply reallocating the way they spend — looking for a connection to the creator of the product; banding together to get better deals; and pushing service and product creators to do more, price better, and connect more deeply to their wants and needs.
The most successful companies will respond to this shift by adopting a business model in which all three parties — the business, the customer, and the community — win in every transaction. Although the Spend Shift will dampen domestic demand for some products, the market for values-oriented goods and services offers opportunities for growth in what might otherwise be considered mature categories. We examined the performance of a group of companies and brands that scored in the top 20 percent in the BAV survey on the values we had noted were becoming increasingly important — self-reliance, adaptability, honesty, quality, and community. And we found that in aggregate they enjoyed nearly three times as much usage and preference as brands that did not represent these values.
We believe that the future face of capitalism will be defined by delivering value
and
values. Those that embrace this reality and adapt will find extraordinary opportunities. Those that ignore it will do so at their peril.

Reprint No. 11107
Author Profile: